Board Of Directors
Doug Hus,
President
I joined CRHS in early 2014 after several Clarksville Day's gone-by thinking this is a very special place Clarksville needing to be preserved for future generations. It is rare a community has so much history especially going back to the Gold Rush days, and I want to help provide the vision that integrates its preservation with our desired quality of life here in the foothills. Working with the community to plan a historical park and event center destination location is a dream that I want to help realize.
Paul Booth,
Vice President
I joined CRHS in 2011 after visiting Clarksville to volunteer to help with the clean-up for Clarksville Day. After visiting I realized how special this place was and how it needed to be preserved for future generations, and after seeing all the hard work that the other members had put into preserving Clarksville I couldn't picture myself not being a part of this amazing group that is so dedicated to preserving the rich history of our community.
Dr. John Thomson,
Treasurer
When I moved to El Dorado Hills over fifteen years ago, there did not appear to be much history here, only the Gold Rush up in Placerville. Being involved with the Historical Society has helped me discover and experience the rich history of our own El Dorado Hills, with its beginnings in Clarksville and the area once known as White Oak Township. Best of all, I get to meet the nicest people through the Historical Society.
Fran Thomson,
Secretary
As a founding member of CRHS I am proud to be part of a group that is small but effective in showcasing our local history. We have established an annual Clarksville Day, enhanced the Clarksville Cemetery with a new fence, gate, and cement benches, and called attention to the Lincoln Highway here in El Dorado Hills with an 8K Fun Run. We have done more than I dreamed we could do, and I am excited to see what CRHS can accomplish in the future.
Betty January,
Director
Hal Erpenbeck,
Director
Sharon Low,
Director
Through thoughtful presentations and well-organized events, CRHS presents important and surprising facts and stories that bring to life old Clarksville and the surrounding region. I am happy to support this heartfelt effort which endeavors to protect and present our unique role in California history.
Bart Magoffin,
Director
---
Board Meetings are held monthly. See our
Calendar Page
for more information. If you wish to attend please call (530) 677-3039.
Our mailing address is:
CRHS
501 Kirkwood Court
El Dorado Hills, CA 95762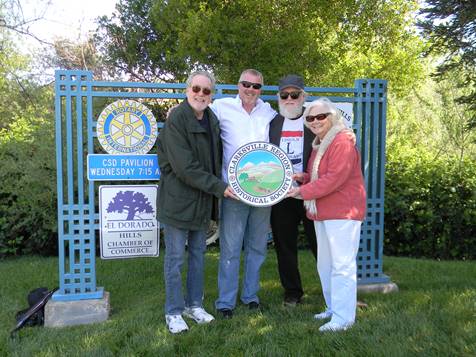 Left to Right: CRHS Board Members John Thomson, Doug Hus, Mike Roberts and Betty January proudly display the CRHS logo for placement on the El Dorado Hills Rotary Club monument sign at El Dorado Hills Blvd. and Serrano Parkway.
3