Clarksville (Mormon Tavern) Cemetery
The Clarksville Cemetery was once called the Mormon Tavern Cemetery. The photo below of the Mormon Tavern may have been taken after it was converted to a residence. The tavern was located in the middle of what is now Highway 50. See the Mormon Tavern historical marker on Joerger Cutoff Road just south of Hwy 50.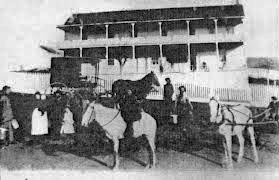 Below is a letter that was sent to the County of El Dorado from the El Dorado County Pioneer Cemeteries Commission in response to a request for comments regarding a commercial project proposed for a parcel adjacent to the Clarksville Cemetery. The project was subsequently abandoned.

Letter from EDCPCC to El Dorado County

List of people believed to be buried in Clarksville Cemetery
Article on Clarksville history by Beth Knowles Pany and Sue Silver.
(Includes information on cemeteries, pioneers, and more).
Aerial Tour of Cemetery and Town of Clarksville