Clarksville Day 2012 Events
Sponsors
|
Main Page
May 5, 2012 10 AM to 3 PM
Reverend Peter Y. Cool:
We haven't forgotten your spiritual needs. We have asked Rev. Cool, an itinerate preacher of the gold rush period, to journey down from the hills to attend our event.
Sierra Nevada Mormon Pioneers:
Will be shooting their canon off again. They have a great display of 1850's stuff and hands-on demonstrations for the kids. They said that they will add some new things to their displays and demonstrations.
Pony Express:
This is the 152nd anniversary of the Pony Express, and they will be back doing remounts and giving rides to the kids.
Sierra Nevada Guns for Hire:
This bunch of guys and gals is the orneriest gang on the western slope. If you gals are having a hard time getting your man to pop the question, the Blue Canyon Gang can arrange for a "Shotgun Weddin". Be careful – there will be another gang in town and they don't get along, so you can expect a shootout or two.
Gold Panning:
Russ will be back showing the kids how to "strike it rich." Russ said that all of the rain this year washed down a lot of color. You could consider a trip to Clarksville Day an investment. Russ says that he is bringing some "promisin" pay dirt.
Antique Car Show:
The longest stretch of the Lincoln Highway in California will return to the glory days with a visit from the Sacramento T's and the Capital A's clubs. They will be on display and will do a parade down the Old Lincoln HWY. New this year we are expecting a display of early 60's T-Birds that might have cruised the Lincoln HWY.
Model Steam Train Setup:
This year we will have a wonderful train setup. There will be several Shay engines running. The Shay is a gear driven engine and was very important to the mining and lumber industries. They will explain how it works.
The Rescue Historical Society:
The pre-WWII fire truck will be back. They have some great pictures of some of the wineries and families in Rescue.
Placerville Sacramento Valley Rail Road Association:
Will be able to show you the plans for their excursion rail car. They will also have lots of old Folsom memorabilia.
El Dorado County Historical Museum:
Always brings a lot of interesting memorabilia and information about the history of the Clarksville and El Dorado County.
Clarksville Region Historical Society:
In addition to hosting the event, we will have some new items to show you and of course be able to talk to you about the history of the area.
Lincoln Highway Association:
The LHA and CRHS are great friends and are very supportive. They will have a booth and will show you the significance of America's first transcontinental HWY. They also have some great stories to tell.
Cemeteries Tour:
We are adding a shuttle to the cemetery at the top of the hill.
Descendants Area:
We have set aside a special area for the pioneer decendants. They are a wealth of information and they like to share the Clarksville past. Be sure to pay them a visit.
The Percheron Horse and Wagons:
These beautiful horses will again be taking visitors from the parking lot to "Downtown" Clarksville.
Food:
This year we are bringing in a new food vender with a big selection of food and beverages.
Music:
Sit on the straw bales and enjoy the Pioneer Singers as they sing songs from the pioneer days.
El Dorado Hills Genealogy Society:
Find out how to check you ancestry and learn about genealogy.
Blacksmith:
Mark Kochan, the lead blacksmith at the Gold Discovery Park in Coloma, will bring his portable hearth and will be hammering on some hot iron.
Mountain Men:
They were a big hit last year and they are coming back with more stuff. I think they will be throwing tomahawks and firing muzzle loaders.
The Gold Country Lace Makes:
Will be another new addition this year. If you have never seen lace making, you won't want to miss their demonstration.
And more...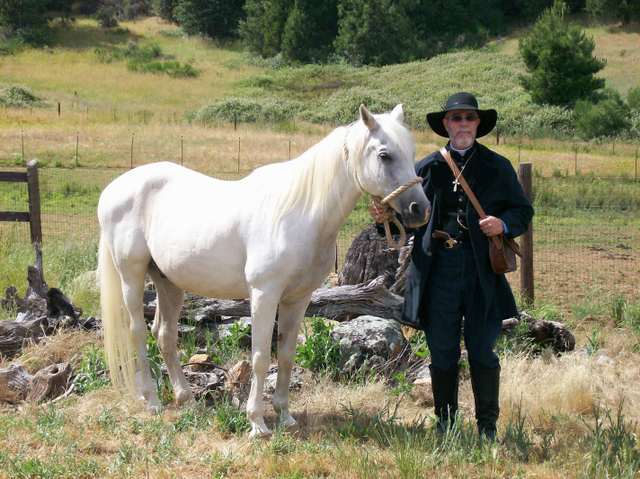 Rev. Peter Y. Cool, itinerant preacher circa 1860.

Click here to read his bio,
by Jerry L. Pozo.