Links
The Pony Express
is ranked among the most remarkable feats to come out of the 1860 American West. The Pony Express was in service from April 1860 to November 1861. Its primary mission was to deliver mail and news between St. Joseph, Missouri and San Francisco, California. There were several routes that the riders used to carry the mail. There was one through Clarksville and another on Green Valley road. The route along Green Valley Road is used for the annual re-ride.
www.xphomestation.com
Gold Bug Mine
is located just outside of Placerville CA Tours are offered into the hard rock mine.
www.GoldBugPark.org/index.html
El Dorado Hills Genealogical Society
provides a means for members, whether expert, novice, or all those in between, to learn more about their family history.

Click here for EDHGS Calendar of Events PDF
.
www.edhgs.com
El Dorado County Museum
is located next to the County Fair Grounds in Placerville. Their website contains several links to many local historical sites and articles regarding local history.
www.co.el-dorado.ca.us/museum/other_museums.html
The Lincoln Highway
was the first transcontinental highway across America. Established in 1913 the highway stretched from Time Square in New York to Lincoln Park in San Francisco. The pioneer branch of the highway went right through Clarksville. Parts of the old highway can still be seen in Clarksville and the adjacent area.
Link to the National Lincoln Highway:
www.lincolnhighwayassoc.org
Link to the California portion:
www.lincolnhighwayassoc.org/info/ca
Marshall Gold Discovery Historic State Park.
Marshall's monument, the original gold discovery site and several historic buildings, became part of California's state park system in 1927. Marshall Gold Discovery State Historic Park features a museum, many original and restored buildings, and costumed volunteers.
www.coloma.com/gold/marshall-park.php
The Folsom Powerhouse
is listed on the National Register of Historic Places (1981) as being significant in the areas of engineering and industry on the national level. It has been said that it represented a momentous advance in the science of generating and transmitting electricity. In 1895 the facility brought high-voltage alternating current over long distance transmission lines for the first time. It is also a National Historic Civil Engineering Landmark (1975), a National Historic Mechanical Engineering Landmark (1976) and is designated as California Registered Historical Landmark No. 633 (1958).
www.parks.ca.gov/?page_id=22909
Folsom History Museum.
Located on Sutter Street in the Historic district of Folsom you will find a small but well presented collection of historical materials. This museum is important to CRHS because of the close connection between Clarksville and Folsom in the early days.
www.folsomhistorymuseum.org
El Dorado Western Railway
is now running Sundays weather permitting from 12 pm to 4 PM.
El Dorado Western Railway
Folsom El Dorado Sacramento Historic Railroad Association.
This site has contains information about the Vail Speeder No. 30, the Skagit, which the FEDS hopes to use as an excursion car on the old SP track running from Folsom to Placerville. It also has links to other local railroading websites.
www.FEDSHRA.org
Links to the history of the History of the Transcontinental Railroad.
We would like to thank Amy of Ms Ward's class for finding this page it contains lots of links to all kinds of information on the railroad.
www.upack.com/moving-west-the-history-of-the-transcontinental-railroad
---
We are looking to bring all of the historical groups in El Dorado County together to form a historical networking group.
Click to visit the Heritage Network Page.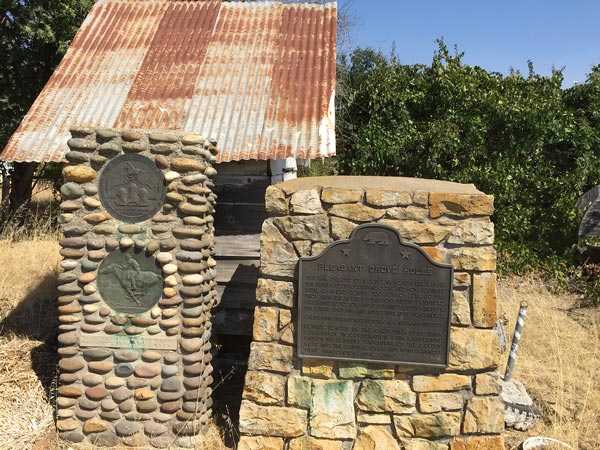 Historical plaques at the Pleasant Grove House, a popular pony changing station for the Pony Express riders. Click image above to view larger and read the plaques. More photos of the Pleasant Grove house below.