Clarksville Day 2009 Events
Sponsors
|
Photos
|
Main Page
May 9, 2009 10 AM to 3 PM
Bring the family and celebrate the rich history of El Dorado Hills
Historic Exhibits • Outdoor Activities • Food and Beverages
Pony Express Re-enactments on the Hour
Pioneer Music by Alan Fuller with Cowboy Hayes
Gold Panning with Russ Kurz
Mormon Battalion Encampment and More!
Program of Events
Exhibitors 10:00 A.M. to 3:00 A.M.
California Automobile Museum
Clarksville Region Historical Society
El Dorado County Historical Society
El Dorado County Museum
El Dorado Roses
Lincoln Highway Association
El Dorado Hills Bowmen
El Dorado Hills Telegraph
El Dorado Hills Village Life
Pony Express Association
Pioneer Cemeteries Commission
Placerville Model A Club
Placerville Mountain Democrat
Mormon History
Rescue Fire Dept. Antique Fire Engine
Rescue Historical Society
Local Authors Table
Outdoor Activities 10:00 A.M. to 3:00 P.M.
Antique Auto Rides
Music by Alan Fuller with Cowboy Hayes
Children's Gold Panning with Russ
Percheron Wagon Rides
Alan with Cowboy Hayes
11:00 A.M. to 3:00 P.M.
Clarksville Cemetery Tour
Pony Express Remount Re-enactments
Mormon Battalion Period Encampment
SPECIAL EVENT 12:00 Noon
Clarksville Pioneer Families and Descendants Picnic
Hot Dogs and Drinks by Jake
HEALTH AND SAFETY
Many Thanks to:
California Highway Patrol
El Dorado Hills Fire Department
El Dorado County STARS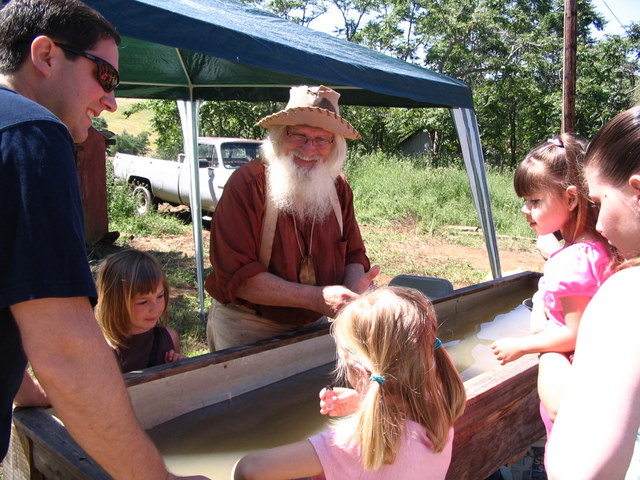 Gold Panner Russ teaches the kids how to 'find some color' at the 2009 Clarksville Day event.