Clarksville Day 2017
Photos
Clarksville Region Historical Society
is so very excited to be hosting our 7th Clarksville Day event on
Saturday, May 6th, 2017 from 10am to 3pm.
Come explore this historic ghost town from days long past. We have an even bigger line-up of exhibitors, presenters and vendors to compliment the reenactments and stories of Clarksville and the Lincoln Highway era.
Look for Clarksville Cemetery tours, Pony Express and Mormon Battalion demonstrations, gold panning, railroad exhibits, old west shoot-outs, old-time photography and so much more. We'll have dated fire trucks, stagecoaches, classic cars including model A's, T's, 1940's and 50's.
We will have more food vendors including local favorites Ruffhaus Hot Dogs, Farmers Deli & Bakery, The Original Kettle Korn and Blue Dolphin Shave Ice. Music by Ole West Trio will be performing and many ORHS A/P history class students will be docents and showcasing their local history projects. Remember,
"Local history builds community!"
Entry is free.
This annual event is made possible by the generous support of the following entities/individuals for which we are extremely grateful:
Serrano Associates, LLC
The Nagle Company
MJM Properties, LLC
EDH Firefighters Association
Jim Brunello Law
Skinner Winery
El Dorado Community Foundation



Waste Connections El Dorado Disposal
Doug Veerkamp General Engineering
John Pine
ProEquity Asset Management
Lakehills Covenant Church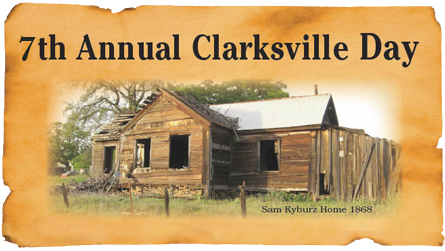 Saturday, May 6th, 2017.
Where is Clarksville?
You will find Clarksville just NE of Town Center in El Dorado Hills just off of White Rock Rd.