Heritage Network
The Clarksville Region Historical Society is taking the lead in the formation of a network of historical groups in El Dorado County. We think that this is an important step for not only the historical groups but for the county as well.
Currently El Dorado County has set up a Community Economic Development Advisory Committee (CEDAC). The Committee has recognized that historic tourism is a potential growth area for the county.
El Dorado County is perhaps the most historical county in California. But it is under-recognized. By banding together all of the historical groups in the county, we hope to raise the level of awareness of the county's place in history. As a result of this increased interest, we expect that there will be an increase in tourism which will bring money into the county.
The Board of Supervisors has indicated their willingness to fund grants to improve and promote the county's vast historical assets. One of the goals of the Historical Network is to identify and prioritize projects that are likely to increase historic tourism in the county. The funding for the grants will come from the Transient Occupant Tax, more commonly referred to as Bed Tax.
To date there have been two preliminary formation meetings: one in Placerville and one in El Dorado Hills. The first formal meeting was held at the Rose Springs Building in Rescue on June 25th, 2013.
If you are interested in being a part of this Network please Call Betty January at 916 933-3173 or Hal Erpenbeck 530 677-5533.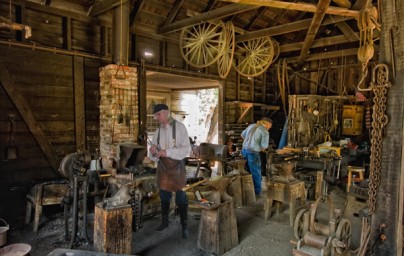 Blacksmith Shop at Marshall Gold Discovery Park